Hello, and welcome! I hope this blog will bring you entertainment, information, happiness, and hopefully will open your eyes to arts events you would have not heard about otherwise.
I love art. From the graffiti on the freeway overpass to Les Miserables. I mainly like to highlight events in the Southern California area, and on occasion, particularly cool events far far away that we should all travel to see.
We all should support the arts and those who are trying to enrich our environment with refreshing images and thought provoking ideas instead of brainwashing and stripping us of our imaginative capabilities. Visit an art gallery instead of doing those drugs. Go see a local band instead of watching MTV in your smelly apartment. Try out some new cafes instead of defaulting to the Olive Garden. (sorry Kendra) :o) (My roommate is addicted to Fettucini Alfredo.) Make your own clothes instead of looking like a clone. (Unless you're one of those weird people who go out with their friends all wearing the same outfit… JUST STOP, you're embarrassing me). And lastly hang out at the library and read more. (Shout out to the Huntington Beach Public Library!) Yeay knowledge.
If you know of some upcoming arts events or have recommendations (dance shows, theatre, gallery openings, concerts, books, films) shoot me an email: info@tatianajimenez.com and i'll try to make an announcement. Or leave me comments. I'd love to hear from you.
**********************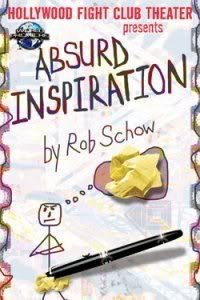 What is it?
HOLLYWOOD FIGHT CLUB THEATER PRESENTS THE WORLD PREMIERE OF
"ABSURD INSPIRATION" written by none other than my pal Mr. Rob Schow! (YEAY!)
When? The play runs July 27th til August 5th, Fridays @ 8PM, Saturdays @ 3PM and Sundays @ 7PM
Where? Hollywood Fight Club Theater, 6767 W. Sunset Blvd. Suite # 6, Hollywood, CA. 90028
I STILL don't get it!? Join us on this journey with Walter McCormick as we see and experience his world as he searches for inspiration to write a new play. We track Walter as he watches his parents bicker over the price of a casket for his still living brother, a casket he is forced to try on for size. We follow Walter as he re-lives his school life holding a teacher's pen for ransom for the right grade and fantasizing how wonderful life would have been if the classroom setting was more like a porno. Maybe if they had taught the right things in school he could hold on to a girl friend. Instead he is left holding conversations about masturbation, penis size, and the price of just having someone listen to you. This humorous, surprising, and touching story is filled with playful unorthodox story telling while still exploring serious questions of existence.
How much? $15.00, (323) 465-0800 Reservations are recommended due to limited seating and popularity of show.